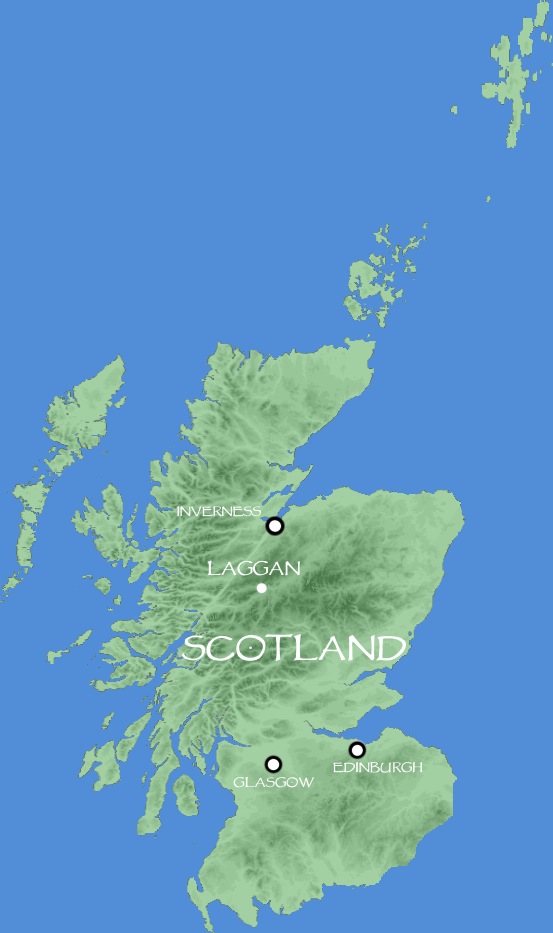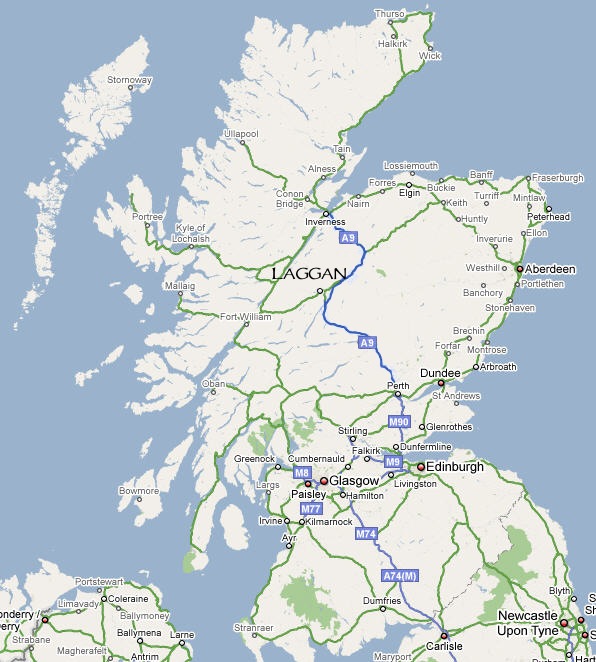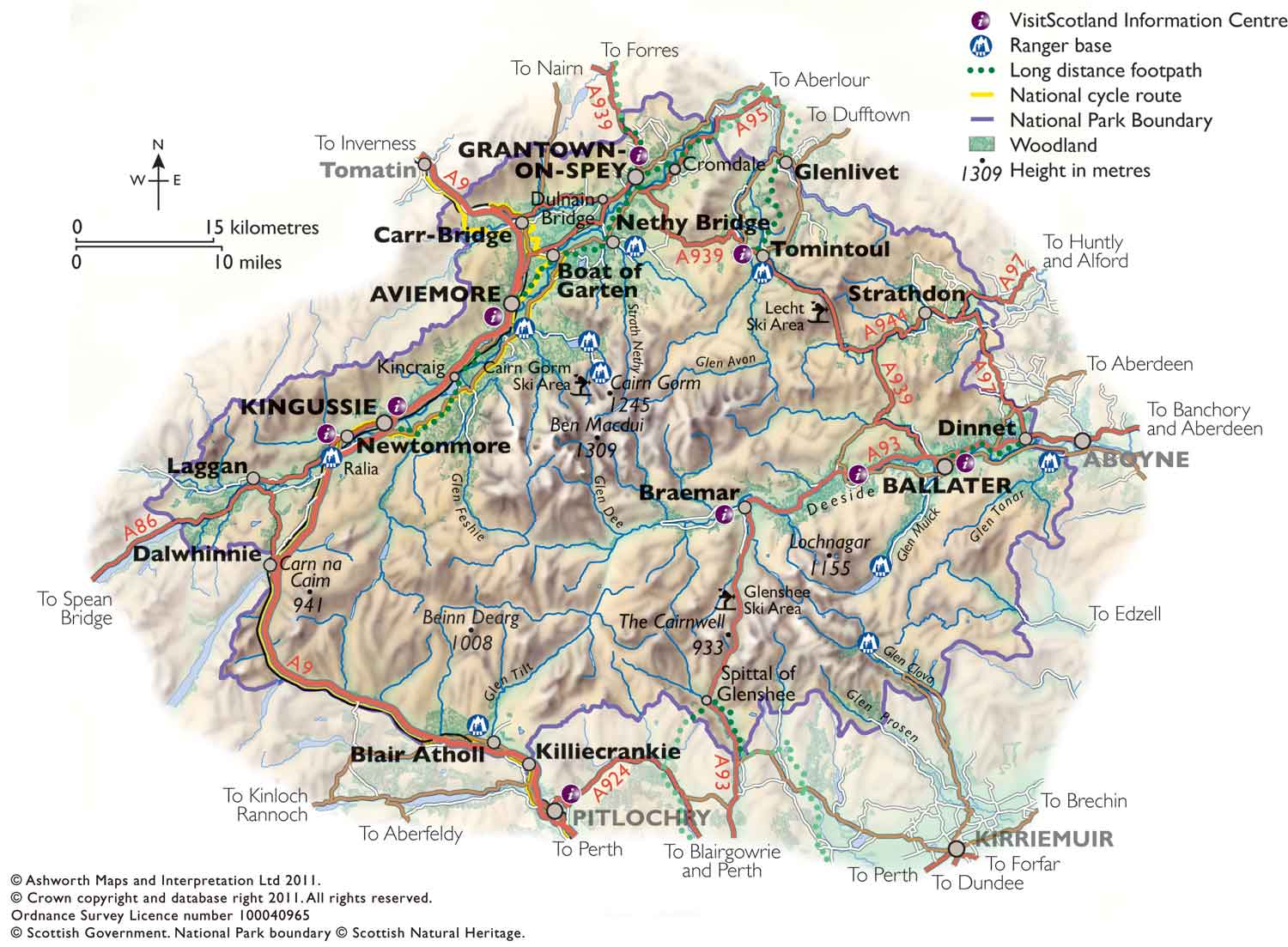 DISTANCES from Laggan ( PH20 1AH) & travel time by car to . . .
. . . Newtonmore – 8 mi (13 km) / 13 min.
. . . Kingussie – 11 mi (16 km) / 19 min.
. . . Aviemore – 29 mi (46.8 km) / 40 min.
. . . Inverness – 56 mi (90 km) / 1 hr 8 min.
. . . Fort Augustus – 51 mi (83 km) / 1 hr 11 min.
. . . Isle of Skye – 94 mi (km) / 2 hrs 10 min.
. . . Fort William – 38 mi (61 km) / 54 min.
. . . Perth – 65 mi (105 km) / 1 hr 24 min.
. . . Edinburgh – 108 mi (174 km) / 2 hrs 12 min.
. . . Glasgow – 121 mi (195 km)/ 2 hrs 26 min.
As you can see from the maps (above), we are set in the heart of Scotland's highlands in Badenoch & Strathspey on the westernmost edge of the Caringorms National Park. Getting to us is best done by car, motorcycle, mountain bike and by foot, though using the train is still a viable but more limited option. Going by rail can be rather good if you are arriving in Scotland by plane from a distant country and are none too keen to hire a car and drive on the "other" side of the road, not to mention the car too!
FINDING YOUR WAY BY FOOT & MOUNTAIN BIKE
For all you hill walkers and way-finders we lay immediately along the East Highland Way from Fort William to Aviemore, Section 4 (49.4 mi from the beginning / 26 mi from Tulloch – the last source for amenities). As well, we are situated on the glen road of The Corrieyairack Pass (Màm Choire Ghearraig), a 24.6 mi and 10-12 hr hike from Fort Augustus to Laggan along the historic General Wade Road. Lastly, the newly established Scottish National Trail, by Cameron Mcneish, lays just outside the door.
FINDING YOUR WAY BY CAR & MOTORCYCLE
Getting around the Scottish Highlands is best by car or motorcycle as its hauntingly beautiful and variegated landscapes can be easily reached and enjoyed in mere meandering moments. A car will also provide that much needed shelter from the Scottish Highland's midgies and always changing weather! (The latter ought to be expected from a land where creation has not quite yet finished separating the heavens from the earth.)
Laggan Stores Coffee Bothy & Wayfarer's Rest sits at the crossroads of the A86 and the road to Gergask and Garva, right across from the prominent Laggan Church building that rests beside the waters of the river Spey. We are 8 mi /13 mins or 11 mi /18 min west of the A9 (to Inverness or Perth) via Newtonmore or Kingussis (respectively) along the A86, 8 mi / 12 min north of the A9 via Dalwhinnie (A889) and 26 mi / 36 min to the next village of Roy Bridge to the West.
The distances and times above reflect the average comfortable drivers from Scotland and the UK. If this is your first time travelling Scotland by car, you will need to build in more time and we suggest you get a good co-pilot to navigate Scotland's well marked motorways and byways.
For those from Canada, Australia, and the United States, scale is a big factor. It is surprising how soon the road or turn you are looking for will come and pass you by in a blink! Just a note, roundabouts are entered clockwise and also make excellent means of turning around when one finds themselves to have missed their turn. Maps are great and SatNavs are helpful with the use of post codes (postal codes/zip codes). Laggan Stores Coffee Bothy is PH20 1AH so feel free to use it in making your navigational plans, but do bear in mind that SatNavs are not flawless and roaming charges on international mobile/cell phones can be ridiculous. So always travel with a good map (remember paper?).
FINDING YOUR WAY BY TRAIN
The nearest train station to us is Newtonmore (NWR) at approx. 7 miles east of Laggan and is a requested stop. However, we suggest you book your rail tickets to Kingussie (KIN) which is a regular stop along the route to Inverness and is just a bit cheaper even though it is about 2 miles farther east from Newtonmore.
A few tips for using the trains in the UK for those who are unfamiliar with this romantic means of transport. When booking your trip (i.e.: Scot Rail or East Coast train lines, etc.) we suggest you begin at the main stations from Inverness, Edinburgh, Glasgow, etc., (which may require a taxi or bus ride) and choose the routes with the least number of transfers. This will greatly decrease your travel and waiting time. As well, a 'single' ticket is a 'one way' ticket whereas a 'return' ticket will bring you back as well (note: two 'singles' can be purchased, if cheaper, to do the same thing). Further, there are cheaper times to travel, generally those outside of morning and after work "rush hour"s.
---
CONTACT INFORMATION
[name(s)]
Laggan Stores Coffee Bothy
Laggan
Inverness-shire
PH20 1AH
Scotland
t: +44 (0)1528 544 ???
e: info@lagganstores.co.uk
w: www.lagganstores.co.uk
Please use the form at the bottom of the page if you want to get in touch with us.